We cannot view not only buildings and monuments but also landscapes and gardens apart from the 'state of mind' of the people of each era and each society. This is just like costume, which is inevitably restricted by not only individual taste but also the mode of the epoch. The author, bearing their cultural climate and living styles in mind, focuses on garden designs in the Islamic world and searches its principles concretely.
As it is said that the English word 'Paradise' originally derives from 'Pairidaêza' (enclosed garden) of ancient Persian, the Islamic garden might have been intended to be the materialization of the paradise on earth in the first place.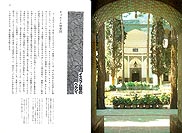 Page Sample
In the Islamic world, where idol worship is strictly prohibited, one could not depict the figures of creatures on stone or paper. Instead, highly abstract geometric patterns were developed as aesthetic expression in architectural design, being unparalleled in Europe. The characteristic of this book would be the taking up of the Islamic landscape and gardening on a full scale, which have not been paid enough attention so far. They are wondrous spaces that came into being by being surrounded or partitioned by buildings or walls.
The location of plants and vegetation that have scarcity value in desert areas, the meaning of enclosing spaces, relation to irrigation and other hydraulic techniques, the roles of garden pavilions and porticos; paying attention to these points, the author follows the historical gardens of Persia, Spain, India, Egypt, Sicily, Turkey, and current examples in Islamic countries, analyzing them closely. This is fully rewarding to readers as a history book too, and his non-obtrusive description is much likable partly owing to being a garden designer himself rather than a scholar.
When turning the pages, readers can perhaps feel the astonishment of Christians in the age of crusaders. Europeans at that time would have found the level of Saracenic culture highly sophisticated, perceiving themselves as being in a half-barbarian state. This is a quite valuable book, as one is also able to learn visually that there was and is a self-sufficient civilization outside the Occident.
< from AFTERWORD by the TRANSLATOR >
本書は John Brookes : GARDENS OF PARADISE, The History and Design of the Great Islamic Gardens, 1987, Widenfeld and Nicolson, London の全訳である. 著者の John Brookes は, 英国の第一線で活躍する landscape designer であり, 世界をまたにかけているが, その本拠はウェスト・サセックスに置いて, 自ら造園の学校も開いているとのことである. また実務家であるばかりでなく, 学級肌の人でもあって, 既に著作が 10冊ほどある. その主なものとしては, "Room Outside", "Garden Design and Layout", "The Small Garden", "The Garden Book", "A Place in the Country", "The Indoor Garden Book" 等がある.
1978年から 79年にかけて, ちょうど革命をはさむ 2年間, Iran に滞在してテヘランの School of Design で, landscape design を教えたことが, 本書を著すきっかけとなったらしい. その他の Islam 地域の庭園も調査し, 歴史的文献にも広く眼を通しているが, 歴史的な記述だけでなく, 現代の Islam 庭園の問題をも深く論じ, 更に Islam 諸国で造園を行う人に対する, advice までも添えているところは, 現役の造園家ならではのことと言えよう.
ただし, もともと文筆家ではないので, その文体は必ずしも整然としたものとは言えないので, 直訳調ではわかりにくい訳文となってしまうことを恐れ, その意味をくみとりながら, 極力論理的な文脈の文章となるよう, 翻訳を心がけた. しかしそのために, 原文のもつポエジーがそこなわれてしまったとすれば, 著者に対して申し訳ない気もする.
訳者にとって本書は, 前回訳出した, "Architecture de l'Islam" (written by Henri Stierlin, Hara Shobo, 1987) の姉妹編というべきものである. 日本の建築界が明治以後ひたすら欧米の建築に学び, 追いついてきた現在もなお欧米にばかり顔を向けていて, India や Islam, その他第三世界の建築文化を無視している状態の, 改善に少しでも役立てばと, 一介の architect の身でありながら, history of Islamic architecture の書物を翻訳し, 出版にこぎつけたのが "Architecture de l'Islam" であった.
幸い好意的な評価を受けることができたので, 更に不遜にも, 今度は<イスラムの庭園文化>の書物までも, 翻訳出版する役割を担うこととなった. 著者のブルックス氏が英国人であるにもかかわらず, かつての Europeans のような 「文化的帝国主義者」 としてではなく, 謙虚に Islam の庭園文化に学ぼうとしている姿勢に, 共感をしたからである.