DATA ; Two-story reinforced concrete building / Location : Nishi-Magome, Ohta-ku, Tokyo / Design : Takeo Kamiya architect and associates, July - October 1980 / Structural design : Yasukatsu Asada / Mechanical design : Toru Watanabe / Electrical design : Tsugio Igami / Furniture : Suruga isho / Windmill : Shinken Kodama / Construction : Shioda Construction, October 1980 - March 1981 / Site aria : 140 square meters / Total floor aria : 136 square meters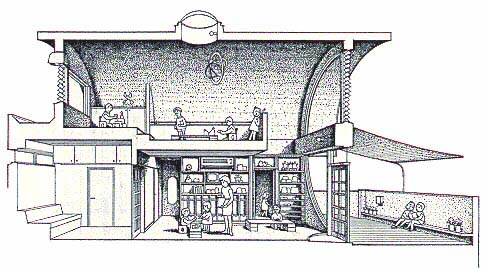 Sectional Perspective
DESIGN NOTE

Interior of the Nursery Room ( photo: K. Nemoto )
In-company day nurseries are increasing for the purpose of maintaining women labor and a steady work place. This building was planned as a typical one of those facilities. The first floor is for the storage of products of a metal processing company and the second floor is a very small nursery taking care of four sucklings and ten toddlers.
Using the legally limited floor area of 66 square meters to maximum efficiency, I made the flight of stairs to the second floor outside, which connects to the neighboring children's park. At the top of the stairs was made a wooden slat-floored terrace in front of the nursery room to expand the children's activities.
Under the vaulted roof, which was made in maximum height under the statutory setback regulation as an oblique line. Giant furniture is intended to be set to raise the utilization of space.