Everywhere in central Tokyo, old wooden houses were reconstructed into high-rise buildings one after another during the bubble-economy period. The wooden house of Morita family, which had become almost buried in a valley of such buildings in Kanda district, also came to be rebuilt into a seven-storied concrete building, the lower four stories of which were for rent as a store and small offices and the owner's residence for three generations to be arranged on the top three. To avoid the impression of being crammed into an office-building order, I intended to give the residence a valuable stage for their quality lives, never to be defeated by independent houses on extensive sites in the suburbs.
Since seven-storied buildings are usually made of steel-frame reinforced concrete structure, I contrived to plan their thick pillars and girders to be inconspicuous to the utmost, using curved ceilings to conceal square beams for example. Not adopting the Japanese typical so-called 'condominium plan', I designed flowing bright spaces centering on the living room like a free-standing independent house.
However, the largest difference between a residence in a high-rise building and a detached house is the presence or absence of the earth-connection. That's why I arranged an 'aerial garden' over the four-storied commercial building, fronting the setback residence, equivalent to a garden on the land of a detached house. Though the word 'aerial garden' is a somewhat exaggerated expression due to its small scale, a characteristic garden space was intended, differentiating from the usual terraces or balconies of condominiums.



  Dining and open kitchen on the 5th floor
Having travelled to many countries around the world, it was courtyards (cloisters) of Western monasteries or patios of Islamic houses that fascinated me most deeply. A small space with water or vegetation as the main element, surrounded by walls or buildings, lets me feel calmness and serenity detached from the outer world.
In ancient Persia such an enclosed space was referred to as 'Pairidaeza'. When people in the Middle Eastern wild, dry, and hot climate wanted to create a comfortable environment, they had to make a sanctuary isolated and protected from the circumferential violent nature. For the Middle Eastern people, it is just this notion of 'garden' or 'Pairidaeza' that is the etymological origin of English 'paradise'. Since this notion of paradise was succeeded by Islam, Islamic architecture has been building such kinds of 'small enclosed gardens' along with main edifices or small houses as the replicas of the heavenly 'paradise garden'.
Come to think of it, the overpopulated city of Tokyo can be said to be becoming Middle-Easternized. What is outside houses is not gentle beautiful nature but a violent dry townscape with bustling noise, exhaust gas and other annoyances. In those towns it would be valuable to arrange the houses around a tranquil patio, and when placing a residence on a high or middle-rise building, making an Islamic small 'enclosed garden' is thought to be one of the directions to be taken for new urban houses.
Thus, I designed Morita house over a rental office building, attaching an 'aerial garden' enclosed by a frosted glass screen with a marble fountain at the center and circumferential benches. Its Islamic atmosphere naturally led to a facade of stacked Islamic arches on the building.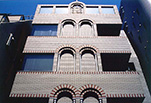 Facade design   Bath room in the 6th floor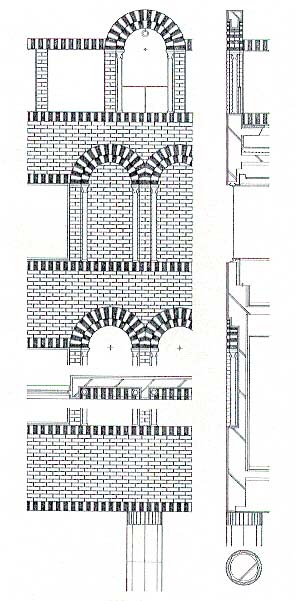 Drawing of the Facade Design
BACK
NEXT
© Takeo Kamiya
E-mail to: kamiya@t.email.ne.jp