DATA ; Interior Design of a Showroom Office / Location : Ebisu Garden Place Tower 12F, Ebisu, Shibuya-ku, Tokyo / Design : Takeo Kamiya architect and associates, February - October 1994 / Mechanical design : Hiroaki Higashi / Electrical design : Shoichi Yamazaki / Lighting design : Reiko Chikada / Construction : Kajima Construction, October - December 1994 / Floor area : 470 square meters / Magazine : "Shoten Kenchiku" November 1996 / Photographs : Isao Imbe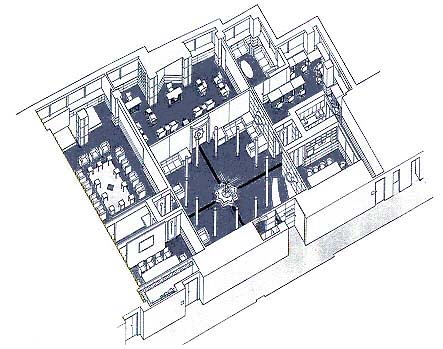 ________________________Axonometric plan
DESIGN NOTE
The subject area was a 460 square meter space in a super high-rise building. Though it was the showroom-office of a manufacturing corporation, the headquarters of which are in Nagoya, that is not to say it was to display its products here, but in a way, it was to be a meeting place with customers.
Despite that this corporation being a maker of paper goods such as various formal slips or printing paper for computers, the times were heading toward the 'paperless office'. In fact, this company used almost no paper, fulfilling business exclusively with computers, and was shifting its products from paper goods to computer software.
The mission of the Tokyo branch was to inform and publicize the systems of those software to people and companies. Therefore, requested office space was small and the staff worked flextime, often going outside spontaneously or working at home with their personal computers. People with companies, government agencies, and universities, interested by the staff's guidance, would visit this showroom-office to get more detailed explanations and to debate with the staff. The purpose of the interior design here was to create the best suitable spaces for those operations.


"FOUNTAIN OF THE WIND"
by sculptor,
Yasuhiko KAWANA
"KANKI SOUCHI '94"
by sculptor,
Kikuma MOCHIZUKI
"INNER LANDSCAPE"
by painter,
Mitsu IKEMURA

When entering the 'Patio' in turning from the corridor, Visitors would be greatly impressed by this centripetal space surrounded circularly with round marble columns, at the center of which is not a fountain but a metal sculpture, the four pairs of thin arms of which are extremely slow-moving, like seesaws. On the peripheral walls are another sculptor's four aluminum sculptures, facing the central one in concert, and at the foot of each column is embedded an elegant star-shaped lighting made by a lighting designer.
Encircled with these art works, visitors can lively talk with the staff inquisitively and relaxedly, and then are invited into a seminar room or conference room to get explanation for the systems of products and debate agreeably about them.