DISCOVERY OF AJANTA CAVES
In 1819, army officer John Smith, separated from his party following the attack of a tiger, fled into deep mountain jungle. This commander of the British stationed troops was invited to the hunting by the Nizam (ruler) of the Princely state of Hyderabad. Ajanta was in its territory at that time. A rock wall of a curious shape covered with a thicket caught his eye. Getting close to it, he found that it was a horseshoe shaped window excavated on the rock with minute carvings as ornamentation.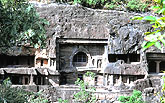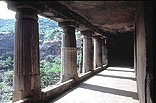 Left: Exterior view around Cave 26 on the side of rock hill Right: Porth of Vihara Cave 6
John Smith found 30 Buddhist cave temples instead of hunting a tiger on that day. The site is a long cliff of a rock mountain at a height of 76m, curving in the form of a semicircle along the Waghora River at a length of 550m. It appeared that the caves had not been lived in for a long period of time. The caves were disposed in various heights with interior spaces with flat or barrel vault ceilings over rock carved columns. They were the abode of massed bats. It is the current Cave 10 that the army officer entered, expelling the bats and carving his name on a column.
CHAITYA AND VIHARA
It is in the current Maharashtra State in the middle of India that the largest number of cave temples were excavated. The cave temples at Ajanta are the most famous Buddhist caves among the 45 places in Maharashtra. Buddhism flourished in this region mainly in the age of the Gupta Dynasty, which synchronizes with the age of later phase caves in Ajanta. However, the earlier phase caves had been excavated in the 2nd century under the Satavahana Dynasty.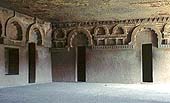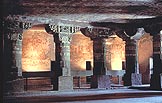 Left: Interior view of early Vihara cave (Cave 12) Right: Interior view of later Vihara cave with cloisters (Cave 1)
There are two types of Buddhist cave temples: Vihara caves and Chaitya caves. A Vihara is a monastery, which can be regarded as replacement into an excavated shape of a wooden or brick temple standing on a level land. While monks' cells surround a courtyard on the ground on all four sides, at a Vihara cave, one side should be open toward the outside as a veranda in order to get light deep inside. As the courtyard of a cave is not open to the sky, it gains the character of a congregational hall. In a large Vihara cave, the hall is surrounded with a line of pillars, which generate a corridor between them and the monks' cells.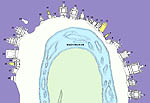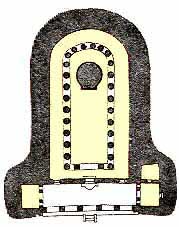 SITE PLAN of cave temples and PLAN of Chaitya Cave 26, Ellora (From "The Cave Temples of India" by J.Fergusson)
A Chaitya signifies a sacred object or spot. In the age of Hinayana Buddhism, since statues of Buddha were not yet produced, followers worshipped relics or symbols of Buddha instead. Those objects were called Chaitya, such as a religious wheel, a bodhi tree, Buddha's footprints, etc. Among them, Stupas enshrining Buddha's ashes were most often worshipped and became the synonym of Chaitya.
There were numerous temples that enshrined Stupas as principal worship objects, being referred to as Chaityagriha (shrine of Chaitya). Among the Ajanta caves, there are only two in the earlier phase and three in the later phase, these five are the Chaitya caves and the others are all Vihara caves.




Facade of Chaitya Cave 9 and 26, Inside of Cave 26
WOODEN LIKE CHARACTER IN ROCK CAVES
It is thought that the origin of cave temples was natural caves. They became monasteries and temples through the process of sheltering ascetics or monks, who had renounced their homes, and settled themselves there. Gradually these kinds of caves came to be artificially dug into rocky mountainsides. As they were modeled after wooden temples and monasteries on level ground, both Chaitya caves and Vihara caves were excavated and carved imitating actual wooden temples and monasteries, leaving rocks in the shapes of pillars and beams, as if they were real structural components.
The inside of a Chaitya cave has a height of two floors covered with a barrel vault ceiling, on which rafters and purlins are also carved like a wooden building. Although those components are structurally needless for rock caves, these curious devices are an aesthetic method to embellish cave temples, making them look like real buildings. This method was always carried through from its porch to the main Stupa.
The excavation of cave temples at Ajanta in the earlier phase finished in the 2nd century, but it was resumed 300 years later in the 5th century and reached its heyday under the Gupta Dynasty, when Buddhism was in the Mahayana phase. Cave temples were embellished with sacred statues in the interior and exterior, and on their walls, even in earlier caves, excellent mural paintings were added.
Viharas (monasteries), with the addition of statues of Buddha, became more like temples. With this change in character, Hinduistic elements permeated into Buddhist caves. Finally, as a result of the decline of Buddhism, the cave temples of Ajanta were abandoned in the 8th century and fell into oblivion.



Statue of Buddha carved at outer wall of Cave 19 and inside of Cave 7
As preeminent cultural heritage, the mural paintings at Ajanta are peerless in terms of their high quality and quantity in the Indian Subcontinent. Because the earlier works are not in perfect condition, most of extant murals are from the 6th and 7th centuries. They show the highest stage of ancient paintings in India and clearly had influenced upon even the art of Java Island in faraway Indonesia.
These mural paintings, protected from the elements and summer heat and from political upheavals that India suffered, are the core of Ajanta's cultural heritage.
TALES DEPICTED ON THE WALL PAINTINGS
The caves in which a lot of mural paintings can be found are Cave 1, Cave 2, Cave 16, and Cave 17, all of which are Vihara caves. Though there are epigraphs of the Vakataka Dynasty (c. 275-c. 550) in the latter two caves, artistically these paintings are thought to belong to the Gupta style.
The murals are continuous without partitions, mostly depicting Buddhist tales, such as 'Jataka' stories, which narrate Buddha's previous lives. They were explanatory illustrations for the edification of illiterate people.
The most popular story among them is the 'story of Simhala' in Cave 17. Simhala, son of a wealthy merchant, ridicules his father and does not listen to him. He is shipwrecked onto the shore of Sri Lanka and attacked by ogresses. Helped by a soaring white horse (Bodhisattva), he goes back to his home and repents his earlier life, then exterminates devils. There is also a portrait of Buddha depicting him full of affection in the same cave, Cave 17, probably drawn in the 6th century.



Wall paintings at Vihara Cave 1, 6th century

In Cave 1, the left wall impressively depicts the 'Mahajanaka Jataka,' the departure of the king Mahajanaka (former Buddha). The queen wants to dissuade him from his departure, but he has already resolved to renounce the world. His countenance and gesture clearly indicate his emancipation. Dancers cannot stop him and the queen despairs. The king says his eternal farewell on an elephant's back.
Cave 1 is also embellished with ceiling paintings depicting imaginary animals and humans. A buffalo is about to kill a monkey, bored by its mischievous acts, but he is persuaded not to do so by a man offering a gift.
(In "UNESCO World Heritage" vol. 5. 1997, Kodan-sha )