EARLIEST BUDDHIST ARCHITECTURE
After the decline of the Indus Valley Civilization, Arians, who migrated to India in about 1,500 B.C.E., developed the religion of the Vedas. It was a religion that made much of rites dedicating animal sacrifices to its various gods, and later it would be called Brahmanism. It was Gautama Siddhartha, a prince of the Shakya tribe, who opposed it and established a new religion not for gods but for afflicted people in about the 5th century B.C.E.
He renounced his princehood and family to become a Shramana (ascetic monk) and eventually obtained Bodh (enlightenment) after six years of ascetic practices and meditation under a Pippala tree in a village south of the city of Gaya. Since then, Gautama became to be called Buddha (enlightened sage), the Pippala tree a Bodhi tree or Bo tree, and the village Bodh Gaya. Buddhafs teachings were widely accepted; especially under the protection of the Mauryan king Ashoka in the 3rd century B.C.E. it became the dominant religion in India, replacing Brahmanism.
Since strangely enough Brahmanism left no temples, historical Indian architecture commenced as Buddhist, although every building has been lost because they were made of perishable wood; ancient India was abundant in wood until the Middle Ages. The ancient Buddhist ruins that we can see now are Stupas, cave temples, and brick monasteries.
Nalanda was the most prominent Buddhist center, embracing many large monasteries made of brick and plaster, and later called a Buddhist university by historians. A Chinese monk Xuanzang (Hsuan-tsang, 602-664) studied there before bringing sacred scriptures of Buddhism back to China.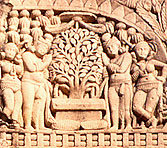 Worshipers of a Bodhi-Briksha (bo tree), carved on a Torana at Sanchi
Buddha statues are essential for Buddhist temples nowadays, and followers habitually worship them when visiting temples. However, such statues did not exist for almost 500 year after the death of Buddha. It was probably because, just as in later Islam, worshiping Buddha made in the form of idol images would not have been considered as genuine faith.
Then, what did they worship at that time? They used various objects that suggested or symbolized Buddha, for example Bodhi trees, stones engraved with the Buddhafs footprints, teaching wheels (Dharmachakra), and podiums for standing on, which are generically called Chaityas altogether. Among them Bodhi trees especially were worshiped as symbols of the way to enlightenment, the scenes of which were delineated frequently in large numbers of stone reliefs.
As seen in Bodh Gaya, a Bodhi tree as a Chaitya was often covered by one or more umbrella, surrounded with a hedge, and even given a gate to be sanctified architecturally. Those eBodhigarasf, or shrines of Bo tree, must have been the earliest pieces of Buddhist architecture.
iOn gSacred Architecture of Indiah, 2005j