MAESTROS of MODERN ARCHITECTURE
It is Le Corbusier (1887-1965), Mies van der Rohe (1886-1969) and Frank Lloyd Wright (1867-1959) who have been most highly praised as the three maestros of modern architecture.
Miesfs architectural style, symbolized by steel and glass office buildings, has prevailed in large cities all over the world, a match for the age of industrialization and economy.
At the opposite extreme was Frank Lloyd Wrightfs distinctive style, which has hardly spread outside America, only producing some works in Japan such as the Imperial Hotel in Tokyo. His formative arts and decoration, almost completely different from Japanese tradition, did not necessarily accompany well with general Japanese feelings.
It can be said that it was Le Corbusierfs theory on urban design and architecture and his formative design in the use of concrete that mainly lead Japanese modern architecture, partly because he was blessed with excellent Japanese disciples.


FRANK LLOYD WRIGHT
Thus almost all countriesf modern architecture was dominated by the principles of Mies and Corb. However, there is one that seems to have more fully accepted those of Wright. It is India.
Being a British colony until 1947, India lagged behind in industrialization and had a sluggish economy, so Miesian-style steel and glass architecture hardly developed. Since Indian traditional architecture, best represented by Hindu temples, was amply decorated in detail with sculptures, it had a sensuous familiarity with Wright among the three maestros.
Two young people, who probably felt this familiality, went to Wrightfs atelier in Taliesin in the USA to learn architecture from him. They were Gautam Sarabhai (1917-95) and his younger sister Gira (1923-@) from the Sarabhai family, which was often likened to the Medici family in Renaissance Italy through its contribution to cultural development in modern India as a plutocratic clan in cotton spinning industry in Ahmadabad.
After two years discipline in Taliesin in the first half of the 1940s they came back to India and encouraged their family to bring to materialization a work by Frank Lloyd Wright.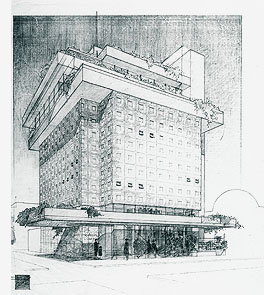 Sarabhai Calico Mills Store by Frank Lloyd Wright (From "Frank Lloyd Wright Drawings" by Bruce Brooks Pfeiffer, 1990)
In 1946, a year before the Independence of India, Wright presented a design for the administration office building for Sarabhai Calico Mills. However, though the reason is not known, Wright was gradually estranged from the Sarabhai family and his plan was not actualized. Although the pendulum would swing from Wright to Le Corbusier, if Wrightfs building had been constructed, the subsequent history of modern architecture in India would have developed in a quite different direction.


ANTONIN RAYMOND
However, that was not Indiafs first encounter with modernism. Nine years earlier, Antonin Raymond (1888-1976) was invited to India by Shri Aurobindo (1872-1950), a philosopher and a religious leader in Pondicherry in southern India, and built the Dormitory of his Ashram (monastic training center) as an authentic work of modern architecture.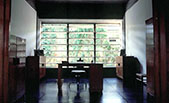 Shri Aurobindo Ashram Dormitory by Antonin Raymond
Raymond, who had earlier come to Japan as the assistant of Wright to supervise the construction of the Imperial Hotel in Tokyo, had established his own office to continue architectural works in Japan.
Unfortunately, as Japan inclined to the military regime, he felt it increasingly difficult to work there, when he was conveniently called to India and he left Japan in 1937. His design of the Shri Aurobindo Ashram Dormitory of exposed concrete, with well detailed movable brise-soleil (sunshade), has been much more carefully maintained than later Corbuisierfs works and is still lovingly used. And it was George Nakashima (1905-1990) who designed its garden and supervised its construction.
Nevertheless, this was not the first piece of modernist architecture in India. The story still goes back seven more years.


ARTHUR GORDON SHOOSMITH
The younger architect Arthur Gordon Shoosmith (1888-1974), assistant to the prominent English architect Edwin Lutyens (1869-1944) who was in charge of the city planning of New Delhi and design of the Viceroyfs House (Government House), built the Garrison Church of St. Martin in 1930, while supervising New Delhi construction.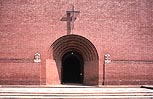 St Martin's Garisson Church, by A.G. Shoosmith
Its powerful massive formation of brick in the constructivist-like style, almost completely excluding decorations, is considered to be the first work of modernist architecture in India. Though he went on to produce more work, his name seems to have dropped out of the history books. He could be said to be an unknown modernist architect in the history, only one year younger than Le Corbusier.


LE CORBUSIER
It was in 1950 that India met Le Corbusier, when the Indian government commissioned the design of the new capital of Punjab state, Chandigarh. Originally it was offered to an American architect, Albert Mayer (1897-1981), an acquaintance of the first Indian Prime Minister Nehru, but was suspended due to the sudden accidental death of Mayerfs admirable partner, Matthew Nowicki (1910-1949).
Accordingly the committee of the state government went to Europe to interview many architects, and then selected Le Corbusier as the designer of the new city and its main edifices.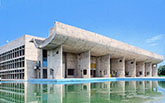 Capital Complex of Chandigarh by Le Corbusier
In response to this, in Ahmadabad, the Sarabhai family switched to Le Corbusier from Frank Lloyd Wright and the state government and other entrepreneurs followed by commissioning design works to Le Corbusier. As Le Corbusier, in parallel with works in Chandigarh, built the Sarabhai House, Shodhan House, Mill-owner's Association Building, and Sanskar Kendra Museum successively in Ahmadabad, India came to have the second largest collection of his works after France. Those works decided the principal course of Indian modern architecture.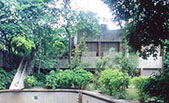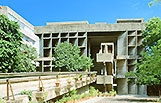 Sarabhai House and Millowner's Association in Ahmdabad
BALKRISHNA DOSHI
While the Indian architect Balkrishna Doshi (1927- ), who had trained at Le Corbusierfs atelier in Paris, supervised the construction of those buildings, he commenced his own practice in his office in Ahmadabad and furthermore established the School of Architecture and Planning, educating students himself. He was the leading figure in making Ahmadabad a mecca of modern design in India.
When he was asked to design the campus of the Indian Institute of Management in Ahmadabad, he turned it over to the American venerable architect Louis Kahn (1901-74) with the intention of effectively profitting for the education of young architects and students in India.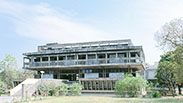 LD Institute in Ahmabad, Balkrishna Doshi
LOUIS KAHN
In the same period Louis Kahn got a larger commission from Bangladesh.
East Pakistan (present Bangladesh), which became independent together with West Pakistan from the British Empire separately from India, made Dhaka its capital and decided to construct edifices for capital functions, such as the National Assembly Hall, in the northern district.
The government of Bangladesh selected Le Corbusier as the architect at the beginning, but he declined as he was already at an advanced age. Since the second candidate, Alvar Aalto in Finland, also declined, it came around to Louis Khan.



Sher-e-Bangla Nagar and Indian Institute of Management by Louis Kahn
Khan visited India and Bangladesh for the first time at the end of 1962. Although these works did not proceed under an always favorable wind, it is quite beneficial for the architectural community of India that the works of a maestro other than Le Corbusier have been actualized in the Indian subcontinent.
As Le Corbusierfs sculptural buildings with huge concrete eaves and brise-soleils match the tradition of Hindu architecture in India, Khanfs pure-geometry-like style has no discord against the tradition of Islamic architecture in Bangladesh.
(Originally published in the magazine "CASA BRUTUS" No. 60, March 2005)