Architects sometimes say gthis part is playh, when they make some shapes or employ some ingenious device to give viewers a feeling of pleasure or curiosity over and above the bare functions of the buildings that they are designing. However, when formally considering what the play in architecture is, it is difficult to recall typical examples of earchitectural playf.
Buildings are projected in order to meet certain strong needs, and architects, a normally serious species, are immersed day and night in how amply they can create convenient and comfortable buildings on a limited budget. They do not often play at the expense of their clients unless the building is for the function of playing itself, such as amusement parks or game rooms.
Then, let us inspect whether the situation was alike in the past, focusing on the historical stone architecture of India.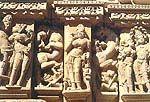 Wall sculptures on the Parshvanatha Temple, Khajuraho
When it comes to Indian architecture, one would recall Hindu temples decorated with innumerable sculptures, and suppose that play must be plentifully enjoyed in Indian architecture. However, most of those sculptures, such as statues of deities, are means of edification of religious tenets; even Mituna statues (sexual coupling) are explanations of a doctrine of Hindu Tantrism. They bear a practical function, and cannot be called pure play.
There are occasionally sculptures unrelated to religious doctrines, exemplified by the figure shown above in which a woman poses flirtatiously, wearing eye shadow, on the wall of a Jain temple at Khajuraho.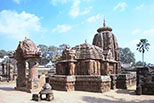 Hindu temple of Mukteshvara, Bhubanesvara
An example expressing play more clearly is seen in a wall panel at the Hindu temple of Mukteshvara in Bhubaneshwar, shown below.
If you conceal the lower half of this square panel by hand, you can see a lying woman. Then conceal the right half, and she stands up on one knee. Next, conceal the left half, and another woman is standing on her hands. Lastly conceal the upper half, she is turning a somersault.
This is utter play without any relation to the practicality of the building, reminding us of the works of M. C. Escher or Shigeo Fukuda.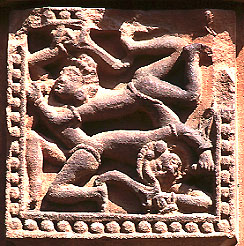 A terra-cotta panel on the wall of the Mukteshvara Temple,
Bhubaneshvar, 10th century
However, if I were asked whether the above-mentioned examples are real eplay in architecturef, I would reply that I do not think so. Both of those temples are orthodox pieces of architecture, seeming not to playing so much, that is, their play is nothing but esculptural playf.
Whether in the West or the East, play in sculptures furnished on edifices would often be seen in every period. Then, what kind of examples could exist, if one had played in architecture itself?


VARIOUS TECHNIQUES
There is the Mausoleum of the saint Salim Chishty in the grand courtyard of the Great Mosque of Fathehpur Sikri, the abandoned Mughal capital near Agra. One can recognize that this renowned buildingfs walls make geometric patterns combining white marble and blackish stone, but when going inside and looking back at the wall, one realizes that the stone that looked blackish is actually a delicate screen of the same white marble. It is, so to say, a magic stone wall, looking only like a blackish solid stone as an exterior view, impossible to see through from the outside, but possible from inside, out to the courtyard.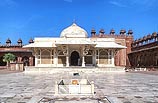 Mausoleum of Salim Chishty, Fathehpur Sikri
Although those stone panels can be imagined being quite vulnerable, having been made so delicately, they are actually very sturdy marble boards of 5 to 10 cm in thickness, drilled in a systematic pattern. It is as strong enough as to not break even if strongly kicked.
Is this play? Again, no. In India, constantly hot, and rainy every day in the wet season, even stone buildings have protruding stone eaves (amazing for us Japanese) and have to be well ventilated. This trellised stone wall is an Indian time-honored technique for ventilation and prevention of trespass as well, often seen in Mughal architecture too.
Then, how about the case of the Mausoleum of Humayun? This enormous tomb of the Mughal emperor in the capital Delhi is completely covered with marquetry of red sandstone and white marble. This elaborate method in stone architecture, equivalent to Byzantine mosaics, is the technique that was most highly developed in Mughal architecture.
Though edifices covered with stone have been increasing in recent times in Japan, it is rare to find it finished with such laborious marquetry. However, this is also an orthodox architectural technique for finishing buildings, and we are not able to call it play.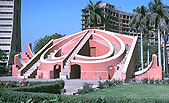 @
Mausoleum of Humayun and Jantar Mantar, Delhi
When pursuing examples of play not in finishing but in architectural form itself, the buildings of the Jantar Mantar (observatories) are recalled. Although their unique singular forms, still extant in Jaipur, Delhi, Banaras and other places, are so extravagant as to make German Expressionist works inconspicuous, they are also not play but practical forms.
Jai Singh II, the intelligent Maharaja of Jaipur in the 18th century, had an untiring passion for science, constructing huge observatories in various cities in northern India. His research and assemblage of the essence of leading-edge sciences at that time and pursuit of the most functional and rational forms based on them bore fruit in these astonishing architectural figures. It is quite interesting that neither traditional elements of Hindu architecture nor the details of Islamic architecture are used here, but as the outcome of scientific development, it would not have been play.


PLAY IN ROMANESQUE ARCHITECTURE
As we saw in the above sections, it is quite difficult to find examples of play in architecture itself in India. Then, is there nothing at all around the world?
In point of fact, I notice that the spirit of play pervaded not only sculpture but also architecture of the mediaeval period in Europe, which was strictly controlled by the Christian religion.
The famous Romanesque abbey, Santo Domingo de Silos, in northern Spain has a magnificent courtyard encircled with beautiful cloisters. A compound pillar of four columns in the west cloister is conspicuous because of being twisted; those columns are all slanted as if the masons had carelessly set their tops and bottoms at wrong positions, giving a quite eccentric posture to the pillar.
Since this pillar is actually monolithic, and not twisted in the least, it can sufficiently support its heavy vertical load. This aspect of the pillar is not connected to the practicality of the building; on the contrary it is a joke or an expression of a spirit of humor, enjoying tricking viewers in their sense of sight.
@

@
Cloisters of the abbey of Santo Domingo de Silos
Although it is a surprise that such a joke or play is done in a monastery, which normally would be quite austere, one can notice that similar behavior in architecture is seen in various places during a tour of Romanesque architecture in Europe; some columns bend or meander like spaghetti and others buckle as if they cannot sustain a too heavy load.
If the ornamentation such as sculpture is categorized in the secondary elements of architecture, Romanesque architecture would be the first instance of play in the primary elements of architecture such as columns, beams and arches.
Though there are a large number of examples of play in sculptures in India, I know of no examples of making a joke in the primary elements of architecture.
However, is this perspective too narrow to see examples of eplay in architecturef? In the category of sculpture, there is a difference between those set independently on the surface of buildings and those carved inseparably from the primary elements of architecture. In the latter cases, if some carvings are intended to give enjoyment to the viewer, without relation to practicality, they might also be called eplay in architecturef.
@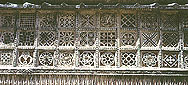 Window screens of the Sanprati Raja Temple, Girnar
PLEASURE IN INDIAN ARCHITECTURE
Given this viewpoint, plenty of examples of eplay in architecturef can be instantly recalled. Typical examples are the Derwara Temples in the bosom of Mt. Abu and the Adinatha Temple soaring alone among deep mountains at Ranakpur.
The Vimala Vasahi is a temple donated by a minister of the Solanki Dynasty on Mt. Abu; it is made of white marble, surface of which is exquisitely carved except the floors, while the Adinatha Temple at Ranakpur has about 400 columns similarly carved, none of which is said to have the same pattern.
An example of this principle applied to windows is in the Sanpraty Raja Temple on Mt. Girnar, in which play can be seen in all the window screens of different patterns. Moreover sculptures on the domical ceilings of the temples on Mt. Abu are enormously complex and delicate beyond imagination; according to tradition, sculptors were paid in proportion to the amount of marble that they carved off, so they carved more and more intricately.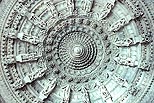 A domical ceiling at Mt. Abu and pillars of the Vitthala Temple
Such spectacular architectural components can be seen above all in the architecture of Vijayanagara, the last Hindu dynasty in southern India, as seen in the above photograph of the Vitthala Temple, every pillar of which is carved out so fantastically and endlessly, in a way that cannot be found other than in India throughout the world. This extreme world, mixing religious passion and artistic eagerness, seem to have fallen into a slight decadence beyond the spirit of play.
If one supposes that temples and palaces are always decorated brilliantly, so they are not eplay in architecturef, I can show a yet more astonishing example: the stepwells existing mainly in the state of Gujarat, western India.
Originally they were nothing other than practical facilities, but their steps leading to the bottom of the wells consist of stone columns and beams, which are carved with unbelievable magnificence, though they were not for the use of kings or nobles. The photo shows the stepwell at the small village of Adalaj, which can be reached by a one-hour bus ride from Ahmadabad. Villagers can take a cool rest on the landings of the stairs during days of insufferable heat.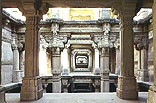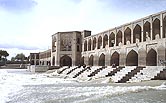 @
Stepwell at Adalaj, India, and Khaju Bridge in Isfahan, Iran
It is a piece of underground architecture; one can see only an entrance part on the ground, and all the the other parts were constructed below the ground. The perspective view of its subterranean framework of columns and beams emerging in the dark, bathed in the light from the sky, is quite fantastic.
It is one of the two greatest achievements of civil engineering construction for common people, exceeding simple utility, and attaining artistic beauty with splendid space and decoration, ranking alongside the Khaju Bridge on the Zayandeh River in Isfahan, Iran.